Massage Kobido 
Created in Japan in 1472, this Kobido facial massage was first reserved for Empresses and Geishas of the time.

It is the traditional art of rejuvenation and beauty.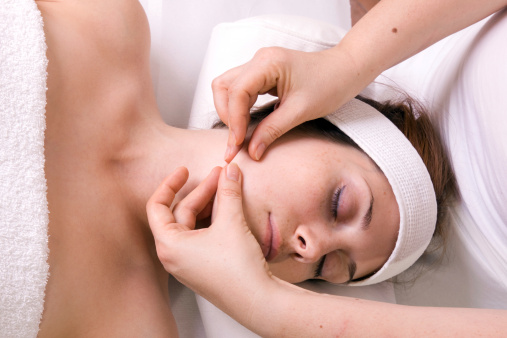 By its regular practice it allows, thanks to the various maneuvers on the fibers of the muscles, to soften and tone. It fights against sagging skin.
This treatment cleanses and purifies thanks to the stimulation of the meridians and acupuncture points, you will also find better energy circulation of the face, neck and body.
The skin regains its radiance and elasticity. Wrinkles fade.
About fifty maneuvers to relax you deeply, eliminate tension and tension, make you more radiant. This massage is an anti-stress
The session lasts 1h10: It is suitable for both women and men.
Ayurvédique
The ayurvédique technique came directly from India, where the sanscrit word Ayurveda ( » Science of the life « ) appoints the traditional Indian medicine. Palpations and pressures, practised on the oiled, body, relax, reduce the strain, and improve the blood circulation.
It consists of pressures on various points ayurvédiques, or Marmas, through whom Prana, breath of life in Sanskrit, moves. At the same moment relaxing and energetics, it allows to relax, to undo muscles, so restoring you all your energy..
This technique bases on the idea that our life and our environment influential on our health. He allows to prevent and to manage the stress and the lack of concentration.. It would stimulate the elimination of toxin, would fight against the fatigue, the sleeplessness and the depression and would facilitate the venous traffic.
Réfléxologie
As ears, our feet reflect our body. They are just like our body according to the Chinese traditional medicine.The manual réflexologie plantaire is based on the existence of zones reflexes situated on and under feet representing all the organs and the parts of the body.
According to the medicine traditional Chinese, the stimulation of these points allows to restore the energy imbalance within the body by simple pressure and massage of these points.
The réflexologie plantaire has immediate effects on the person and gets a profound relaxation and balance.
Where ever you are 40Km around Epernay, in hôtels, guest house, I can give a massage.
See the price list